Founders' Day Relaunched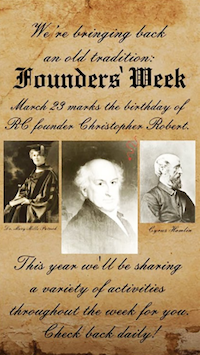 Founders' Day, together with Charter Day, were long-standing traditions when the boys and girls were on separate campuses. This year, RC re-launched the event as a week-long celebration of the school's heritage called Founder's Week.
Founders' Day originated on the Bebek campus in 1888, the 25th year of Robert College, and was always held on March 23 - Christopher Robert's birthday. The girls followed suit with the first Charter Day held in 1908, to mark the day that ACG received their charter to be an independent school from the Legislature of Massachusetts. Charter Day also coincided with the March 10 birthday of Mary Mills Patrick, the long-time visionary President of ACG. When the schools merged in 1971, the tradition was discontinued.
This year, the Development Office revived the celebration as a way to remind the community of the rich heritage of the school and the ideals for which it stands. Originally planned with several activities around campus, the celebration went virtual after the campus closed.
The week kicked off on March 23, which coincided with another milestone in the history of the school - the day that classes began online. Through the school's social media accounts historic photos were shared. In addition, visitors could play with fun filters which turned them into school founders and showed the wisteria blooming on the front of Gould Hall. The week finished off with a quiz on the history of the school.