Street Art: A Conversation with Club Advisor Narciso Argüelles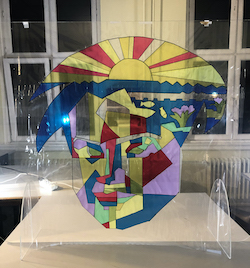 There are many art-related clubs at RC, such as Art & Archeology, Art Club (a foundation for AP Art classes), Ceramics, Graphic Novel Club, RC Photography Society and Street Art Club. RCQ spoke with Narciso Argüelles, the advisor for one of RC's newest clubs.
What is the aim of the Street Art Club?
The name "on paper" is Street Art Club, but we call it a crew - Street Art Crew or RC Street Art Crew. The aim is to make art that engages the RC community and the outside community in an artistic sense. The art will often be installation art or site-specific, as opposed to plop art, where someone plops an art piece on a wall or the floor of a gallery or location. Instead, we aim to make a connection to the location and work with the environment. The work can be fabric like flags or knit pieces on light poles. It can be light projections like video or lasers. The artwork can be spray paint (legal). It can also be works on paper that are wheat pasted on walls.
How did you decide to create this club?
I have always been fascinated with street art. I have done murals on my own and with students back in the US. I did a large exhibit of my street art in Tulsa, Oklahoma a few years back, called Heaven Spots. One of the first things I noticed when I travelled around Istanbul was the graffiti. I thought it would be a good way to have RC be part of the community.
What are students learning and doing?
We started with a little bit of history and vocabulary. Having a scope of what is included in this art form helps with the art making process. We spoke about techniques. It is about using regular art skills as the foundation and building off of that. For example, most of the students already know how to use pencils, pens, and markers. How can we use those skills and make graffiti lettering? Currently they are designing stencils. We learned about British artist Banksy. For now, the students are using the school for their site-specific art environments (installation art), but the goal is to get them out into the city with donated walls or temporary places to showcase the work. The eventual goal is to visit places like Spain and the UK, where street art has a greater role in society and history, as part of a learning trip and to make art. Think of us as Art Ambassadors.
How do club activities continue from home during the pandemic?
For now, the students design the work, send it to me, and I construct it or execute the idea. I am taking on the role of an art fabricator. When the work is installed the artist's name goes on it, not the fabricator. We are working on stencils now. Next up is wearable art.