COVER STORY
Theater constitutes one of the most enriching aspects of an RC education. Over the decades, RC productions turned many an ACG and RC student into an avid follower of the dramatic arts for life, as well as launching professional actors, directors, playwrights, and dramaturges. The theater tradition at RC and the RC theater community are still going strong in many interesting directions.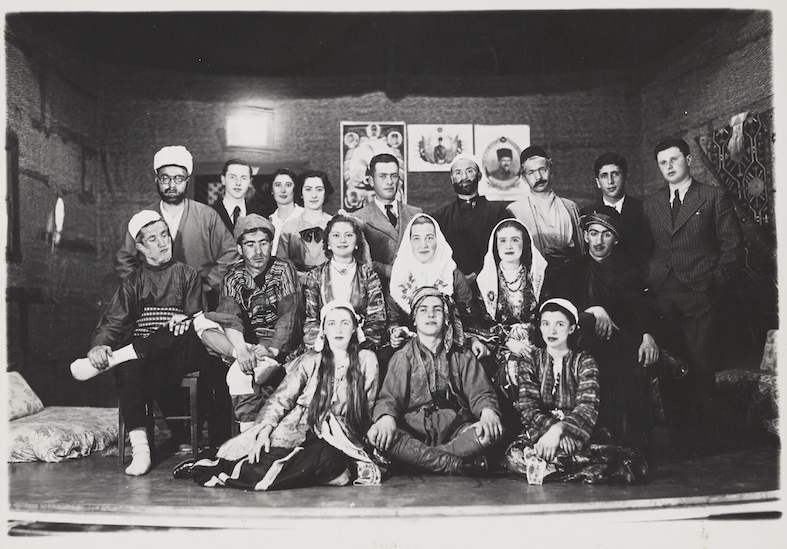 Turkish Society year-end play Kahramanlar Köyü (Heroes Village) in 1939
The Robert College archives show theater activities as early as the very beginning years of ACG and the early 1900s at RC. The defining impetus in those early years happened when the Hisar Players were formed in 1919. As related in the book Tepedeki Okul by Cem Akaş, the Hisar Players were a serious-minded bunch, comprised of students and teachers. They were even asked to perform at Darülbedayi, the state conservatory of the time. In 1924, the Robert College Players was launched, and they started the tradition of a class play every year. In the 150th exhibition catalog, Anatomy of a Tradition, Spreading the News, a play about rural Ireland by Lady Gregory, as well as various comedies are cited as the plays performed in the Players' first year. During the 1920s, not only were many plays staged, but also a detailed critique of each play was always penned. Mostly non-Muslim students and teachers were the actors, and female parts were played by the male students. Theater was taken seriously from the very start, and the respect for the discipline established it as one of the pillars of the RC experience through the decades.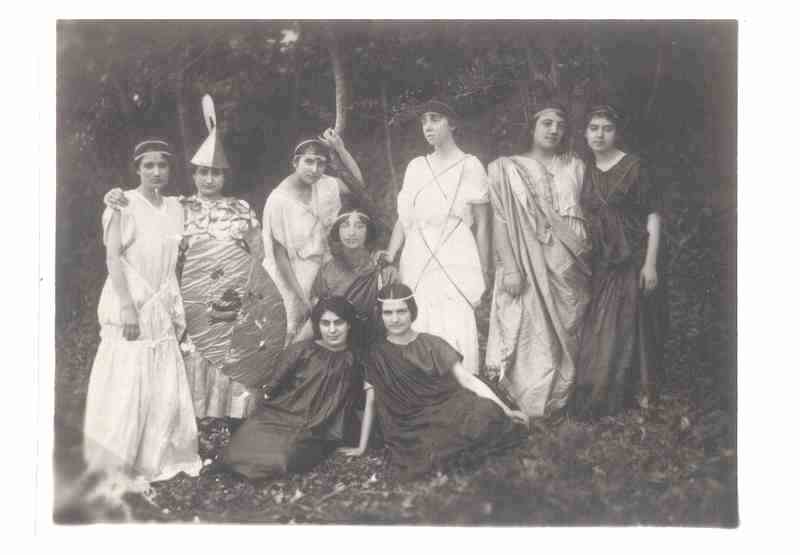 ACG students from 1917's production of Pygmalion & Galatea
In the 1930s plays in German and French, as well as English, are known to have been performed, and student-written plays were also staged during this time. The very first Turkish play at RC was also performed in the 1930s by the Turkish Society: Fermanlı Deli Hazretleri by Musahipzade Celal. Legend of Turkish theater Muhsin Ertuğrul himself expressed his gratitude to RC, whose productions he viewed as a service to Turkey. He was particularly impressed by a 1931 production of Shakespeare's Merchant of Venice. On the ACG front, an official Dramatic Association was formed in this decade, although ACG records show there was some difficulty in getting plays approved. Charles McNeal was a pivotally involved member of faculty at the time, and both he and Hilary Sumner-Boyd, who would join RC in 1943, put a lasting stamp on the RC theater tradition with their contributions over the years.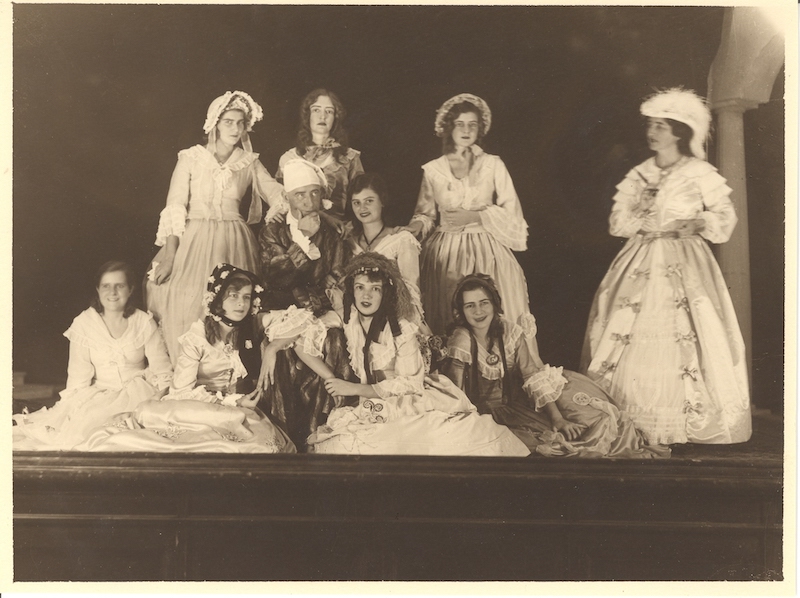 Gilbert and Sullivan's Pirates of Penzance was performed in 1932
Indeed it is the 1940s, when the theater scene at RC fully bloomed. Starting with this decade, there were myriad productions in both English and Turkish in both RC and ACG. The two schools happily cooperated in casting. Faculty Ekrem Yirmibeşin, Şefik Yalçın, and Vildan Tarhan came on board for the productions in Turkish. Some of the students performing in the 1940s, such as Haldun Dormen RC 49, Şirin Devrim ACG 46, Tunç Yalman RC 44, Refik Erduran RC 47, became pioneers and stars in theater; others, like former prime minister Bülent Ecevit RC 44 or former mayor of Istanbul Ahmet İsvan RC 44 became political figures. Writer Cevat Çapan RC 53 also frequented the stage in the 1940s.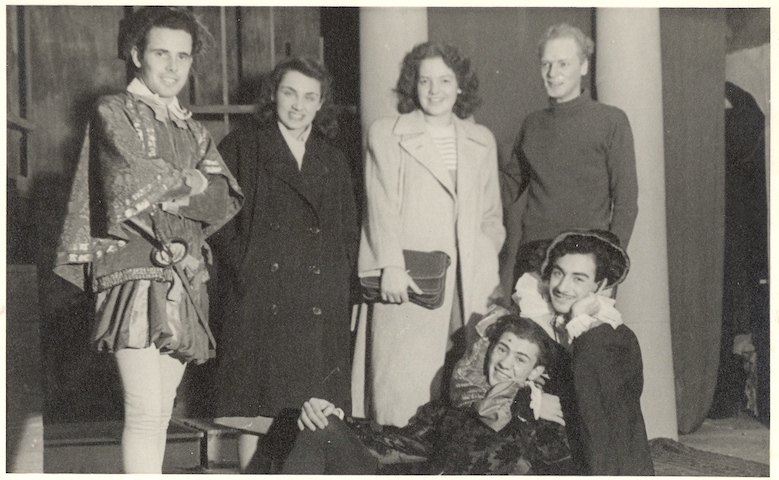 English teacher Hilary Sumner-Boyd had a great influence on actors at RC, including the cast members of the spring 1948 production of Romeo and Juliet - clockwise from L to R: Raymond Pizante RC 48, Züleyha Kocaolçum ACG 51, Anna Phillips, Hilary Sumner-Boyd, and (seated) Nur Yalman RC 50 and Aptullah Kuran RC 48
The vibrancy of the theater scene at RC and ACG continued in the 1950s. By this time, along with monthly class plays, four major English and four major Turkish plays were performed every year. This decade welcomed future heavyweights, such as Göksel Kortay ACG 55, Engin Cezzar RC 55, Özdemir Nutku RC 50, Ülkü Tamer RC 58, Genco Erkal RC 57. Oya Kaynar Başak ACG 55, who went on to become a professor of English at Boğaziçi University, also took to the stage in the 1950s. It is a testament to the dynamic cultural and educational environment at RC that so many of its students explored the arts and acquired some of the skills and curiosity that empowered them to trailblaze in the arts, during their time at RC.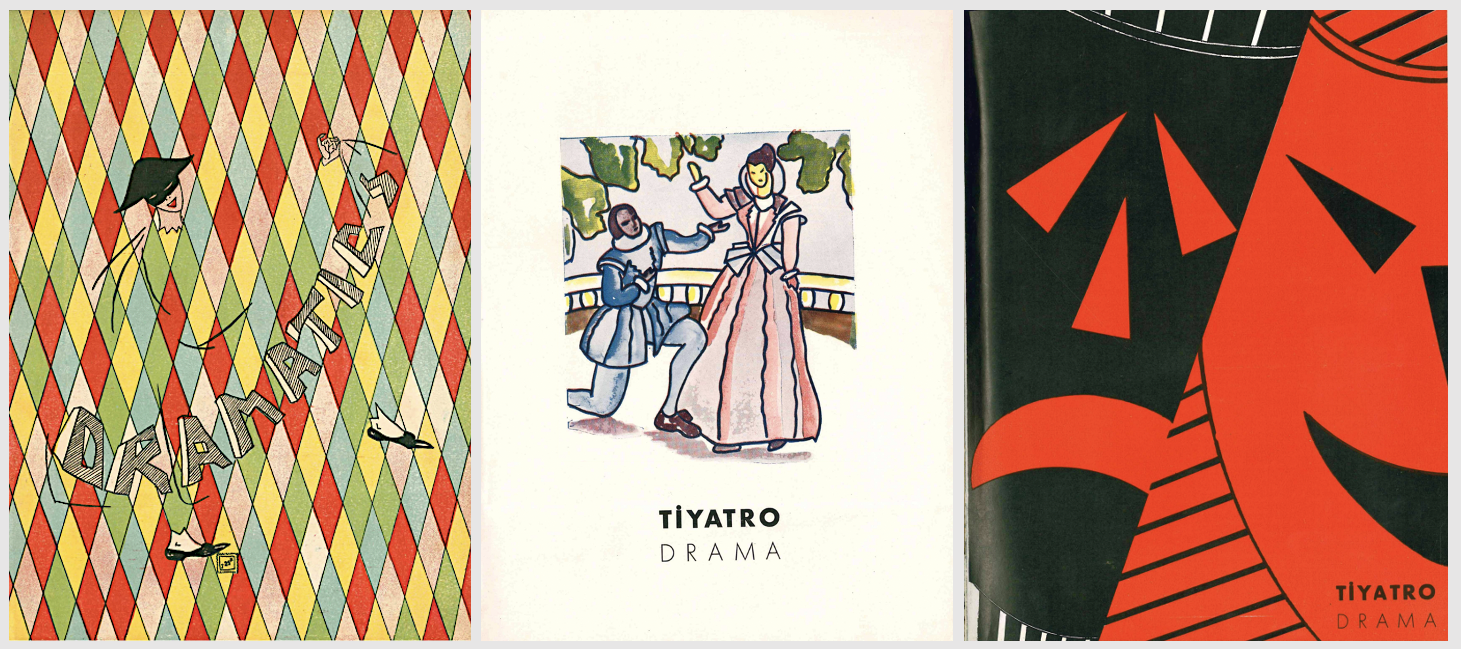 The artwork for the drama sections from the 1925, 1938 and 1954 Records respectively
Indeed in the RC Alumni Magazine dated 1983 Ayşe Kulin ACG 61 directed the question "Did your alma mater have any influence in your choice of career?" to Engin Cezzar RC 55. He answered "Our teacher and advisor Hilary Sumner-Boyd has a great influence on my generation in choosing theater. My last school play was Othello. I was the lead. By the final curtain I had made my choice. After watching the play, Mina Urgan convinced my father who until then had opposed my desire to be an actor that I could be successful. I was sent to Yale to study theater arts. The College definitely influenced me in my choice."
The 1960s at RC also brought forth stars: Çiğdem Selışık Onat ACG 60, who played in Cocteau's The Human Voice, among other plays, went on to become a renowned actress. The first role ever for Nevra Şirvan Serezli ACG 65 was Christine in Strindberg's Miss Julie. Beloved writer Pınar Kür RC YÜK 63, was Cressida in Shakespeare's Troilus and Cressida. Ali Taygun RA 61, Ahmet Levendoğlu RA 64, Yavuzer Çetinkaya RA 65, Meral Taygun ACG 65 and Beklan Algan RC 53 all went on to become fixtures of the Turkish acting scene.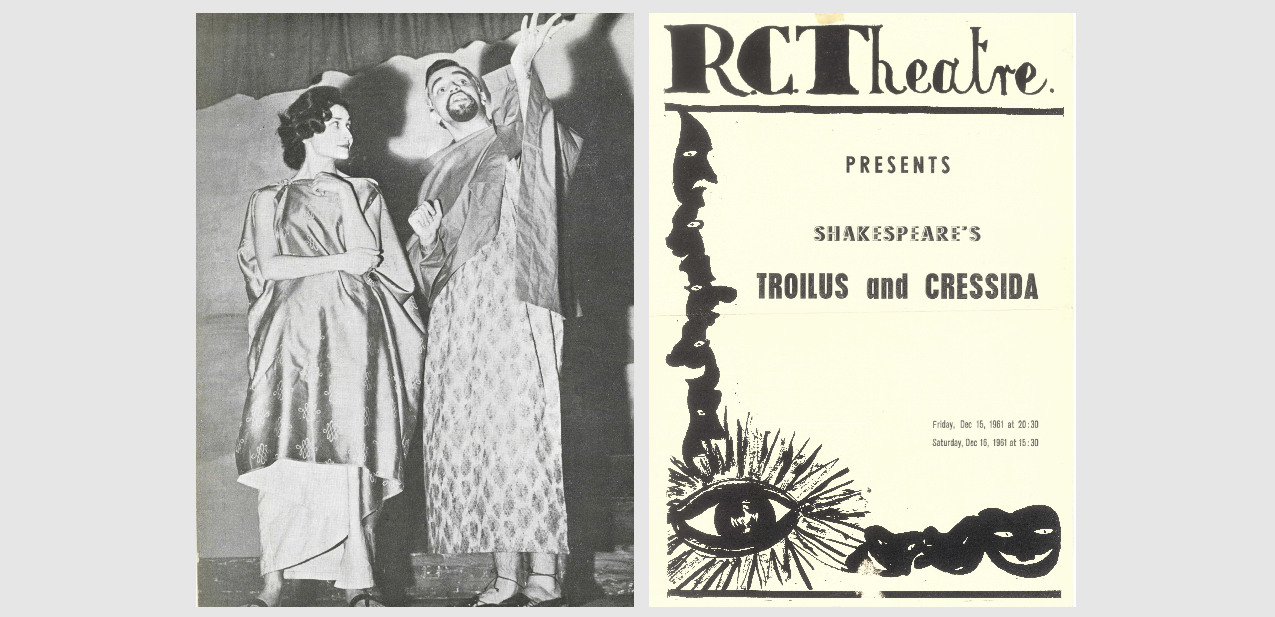 Pınar Kür RC YÜK 63 and Kiril Kirof RC YÜK 67 in the title roles of Troilus and Cressida in 1961
The 1970s were a turbulent time in Turkey politically. The switch to the general university exam and student adjustment to this new system, as well as the general political climate, including curfews, put somewhat of a damper on theater activities. The joining of RA and ACG created new energy, although it meant that the assembly hall used for theater productions at ACG had to be re-purposed as a gymnasium, leaving most productions no choice but to perform on a makeshift stage for the next two decades. One of the highlights of this decade is the production of the first musical written by a student in 1978: Ali Özen's The Wheel.
In the 1980s, the Orta musicals helped fire up the dramatic scene once again. The King and I, Evita, West Side Story, and Cabaret were among these ambitious productions. Işık Lisesi theater stage was hired for some of the musicals; the rest were performed at the gym. The Cabaret production was attended by Engin Cezzar RC 55 and Gülriz Sururi, who were themselves performing it at the time. Didem Sezer Manecolo RC 90 recalls this period with affection: "Watching South Pacific and West Side Story mesmerized me as an Orta student, so when I became a Lise student, I auditioned and made it! I was part of the chorus girls in Cabaret, one of the three lead girls in Sweet Charity and one of the lead roles in Delusions, a play written by my classmate Kerem Deren. Staying late for rehearsals, working on the choreographies, trying on the costumes, doing our makeup are memories that will stay with me forever... In Sweet Charity, the song "Rhythm of Life" was really difficult to perform. We failed and failed until we got it right in the final rehearsal, and I still remember that moment of bliss when we were all screaming "we did it!" with tears in our eyes. I am very proud to have worked with Yeşim Özsoy and Kerem Deren, my classmates who have actually chosen this path as careers. Now that I work at a high school as a college counselor, whenever I watch the students performing musicals on stage, a part of me is with them, soaking in the spotlight and singing along."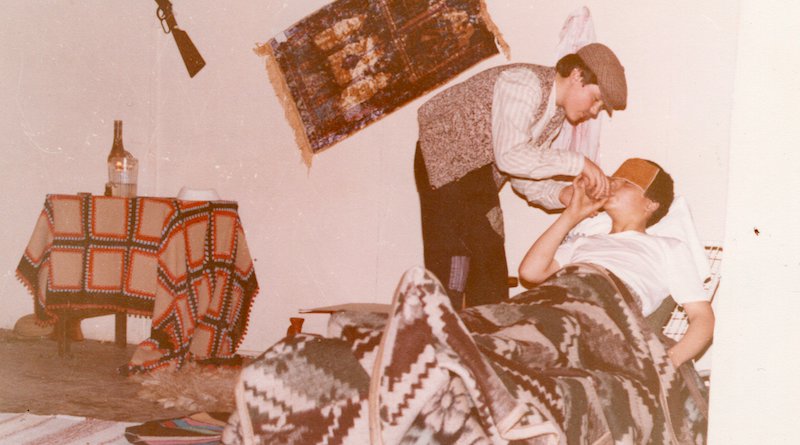 Can Özbal RC 88 and Oğuz Karakaş RC 88 in Karaların Memetleri
The Orta school was also quite active with Turkish plays during the 1980s: Cevat Fehmi Başkut's Ölen Hangisi, Cahit Atay's Karaların Memetleri, Haldun Taner's Keşanlı Ali Destanı, were all staged by Orta students with the support of Turkish teachers such as Bilgi Haner at this time. Renowned actor Nedim Saban RC 86 turned in a stellar performance at Turgut Özakman's Fehim Paşa Konağı. Most of these plays were performed at Bingham 1. Oğuz Karakaş RC 88 recalls what playing at Bingham Hall entailed: "In Karaların Memeteri, Cahit Atay illustrates the suppression of local cultural traditions and the duality they impose on the people in the stories of three characters named Mehmet. Because there were no changing rooms at Bingham Hall, I had to change into my traditional costume in the P.E rooms at Gould Hall and walk across center court in full costume." RC continued to generate influential figures for the Turkish drama world, such as Yeşim Özsoy RC 90, Nedim Saban RC 86 and Haluk Özenç RC 88 during this decade.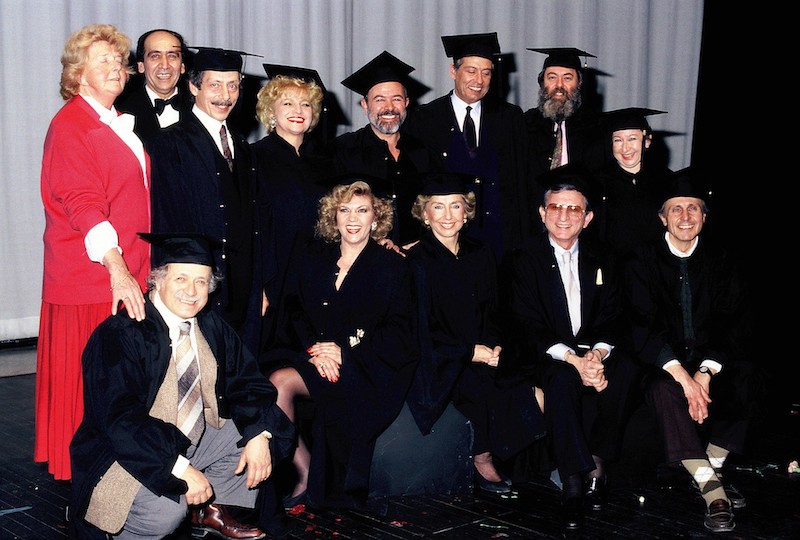 The Suna Kıraç Hall was inaugurated with the spectacular gala event The Show Goes On, featuring illustrious RC alumni actors. Standing from L to R: Dorothy İz, Nedim Göknil RC YÜK 65, Genco Erkal RC 57, Göksel Kortay ACG 55, Engin Cezzar RC 55, Can Gürzap RA 62, Ali Taygun RA 61 and Esin Eden ACG 54, Seated from L to R: Nüvit Özdoğru RC 46, Nevra Şırvan Serezli ACG 65, Oya Başak ACG 55, Haldun Dormen RC 49 and Yağız Tanlı RC 59
A key development was inarguably the inauguration of the Suna Kıraç Hall, named after RC Trustee Suna Kıraç ACG 60. With its 500-seat capacity, expansive stage and state-of-the-art sound and lighting rig, it brought the theater experience at RC to a whole other level. RC students and faculty thrived on these resources, as productions became both varied and more ambitious over time. Some of these included Deli İbrahim in 2001, 7 Kocalı Hürmüz and Celebration of Broadway in 2004, Of Mice and Men and Charlie and the Chocolate Factory in 2008, Aida in 2009, and Romeo and Juliet in 2010, and, unforgettably, Gizlenmiş Gölgeler Senfonisi in 1998, written by Kadir Şan Tarhan, RC's beloved switchboard operator from 1985 to 2017, in which members of the whole RC community performed.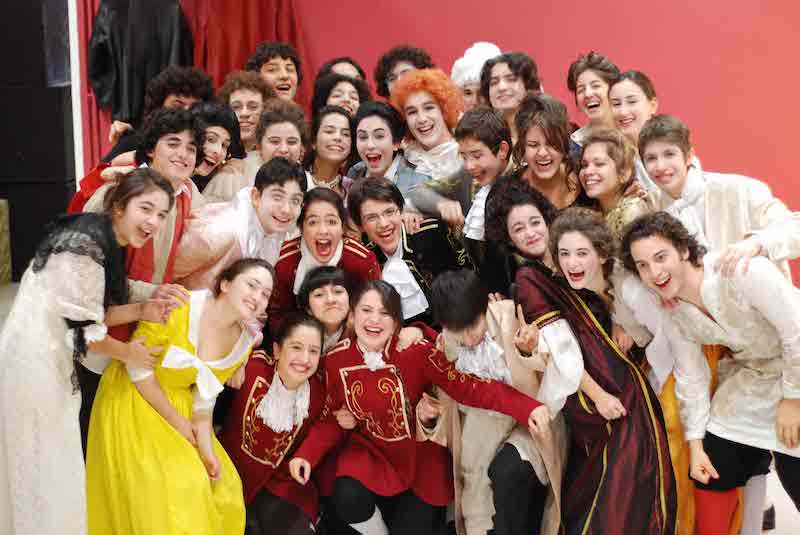 The cast of Amadeus, staged in 2008
The spirit of RC theater did not take a hit even during the pandemic. Members of the RC Theatre Company turned their screens into their stage and wrote an original TV series with original music by the students that included a news parody, a game show parody, a Socrates trial and a whodunnit podcast.
Another testament to the impact that Robert College has had on theater in Turkey is the Turkish Theater Festival – TIFES. Started in 2003 by RC 07 graduates Özge Onur, Nilüfer Çetinkaya and Lale Alpar, TIFES was organized by students and brought together participants from different schools with a goal of making students develop a sensitive approach toward the captivating world of theater.
Read interviews with teachers who have recently helped shape aspiring actors and who are continuing the long tradition of theater at Robert College.
Published January 2023