"We have started understanding nature better."
COVER STORY: ENVIRONMENTAL SUSTAINABILITY
Ali Nihat Gökyiğit is one of the leaders in the fight to protect Turkey's biodiversity through two organizations he founded, the Turkish Foundation for Combating Soil Erosion, for Reforestation and the Protection of Natural Habitats (TEMA) and the Ali Nihat Gökyiğit Education, Health, Culture, Art and Preservation of Natural Resources Foundation (ANG).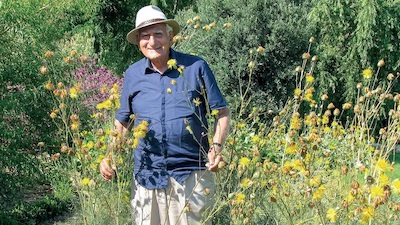 Ali Nihat Gökyiğit RC ENG 46
Why did you found TEMA?
In the 1970s, Hayrettin Karaca and I used to chat about nature all the time. He had become aware that erosion was rampant, during his travels to collect specimens for his Arboretum. I had grown up in Artvin, known for its biodiversity, and was aware of the damage done to nature during my travels as a young engineer. Over time, we felt it was inadequate to just talk about these problems. We decided to establish a foundation to educate and convince the public through projects that showed that solutions were possible. TEMA was launched in 1992, and with almost one million volunteers, it is one of the most embraced NGOs in Turkey.
What types of impact has TEMA had since its inception?
As of 2020, our activities extend to 81 cities, 404 districts, 123 neighborhoods and 56 universities, amounting to 664 locations. We have almost 900,000 volunteers. Together we fought against water erosion. We took up the Konya Karapınar and Iğdır wind erosion problems. Our "10 billion oak seeds meet the earth in 25 years" project created a lot of excitement. Our sapling donation efforts are going on full force. We can say that Turkish people have cultivated a passion for trees, friendship towards nature and a passion for nature preservation through our efforts.
Why did you establish the ANG Foundation?
Over time, the idea of establishing a foundation to generate funds and continuity for biodiversity issues took hold of me. That is how the ANG Foundation came into being.
One of our important activities is creating botanic gardens that showcase the plant world. The memorial park I built for my wife Nezahat is now part of the Foundation and is the first and only botanic garden that is located in a highway interchange. The Illustrated Flora of Turkey project that aims to record our valuable biodiversity started in this garden! There are also projects around endangered endemic and rare plants of Turkey, tree farming focusing on fast growing trees and bees.
Can you tell us about the Maçahel Project?
When TEMA first started, we took into account that some damage to nature was due to poverty. Therefore, we included rural development projects in our program and focused on Maçahel (see RCQ 24, p. 26).
After a nine-month search, we discovered that the pure Caucasian bee, once thought extinct, was alive. This was a fertile species, able to draw nectar out of every type of flower with their long tongues, and resistant to tough weather conditions. We started by educating and organizing, and bee production is now in full force. The second phase was the creation of organic farming. The third phase was nature tourism. We developed travel routes. I also built a guest house which I donated to TEMA, and we renovated village houses to create motels.
What gives you hope for the future?
Our dependence on an ecosystem whose balance is enabled by biological richness is now recognized. We have started understanding nature better, now that natural disasters, climate change and drought have entered our lives. NGOs and governmental organizations are working hard to educate people. I hope that the public's interest will only increase.
How did RC influence your love of nature?
I attended walks in nature at RC which reminded me of my childhood in Artvin. Connection to nature was highlighted in our classes. During geology class, different natural stones would be passed around for us to specify the type through observation. Our geography teacher Ziya Bey would go to a different part of Turkey every summer and come back and tell us his observations. I want to underline how our teachers loved teaching.
Published August 2021