Sculptor lauded as an imaginative and versatile representative of contemporary art.
GRADS IN THE NEWS
The 2020 Ernst Franz Vogelmann Sculpture Award was presented to Ayşe Erkmen on July 17, 2020, at the opening of her exhibition Eins, Zwei, Drei at the Vogelmann Art Gallery in Heilbronn, Germany. She was lauded by the jury as an extremely imaginative and versatile representative of contemporary art with a broad concept of sculpture. "This prize means a lot because it is not just an art prize but a sculpture prize, I am the first woman to get this prize and because it gave me the chance to have a big exhibition as part of the prize" said Erkmen.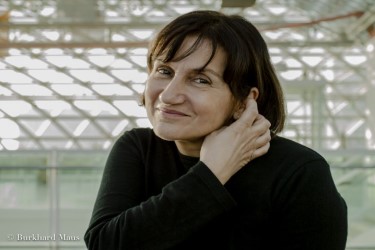 Ayşe Erkmen ACG 70ex
Known for her site-specific works which are displayed for a limited time, Ayşe Erkmen's creations often "disappear" when an exhibition is over. For her the artistic goal is not to create a product or object, but a temporary state with minimal interventions, which demands perception and remains as a memory. She reflects the specific features of a place in its respective context: sometimes historical-institutional, sometimes social-cultural. For example, "On Water", a jetty connecting the riverbanks at Münster's inner harbor which she prepared for Skulptur Projekte 2017, gave visitors the feeling of walking on water, while also drawing attention to sociological and urban planning problems.
When asked about upcoming projects, Erkmen said, "Because of Covid-19 most exhibitions are being cancelled or postponed. My exhibition in March in Ichihara, Japan will be installed by the curators without me being there. In March I will also have an exhibition in Berlin at Galerie Barbara Weiss. An exhibition in Fremantle, Australia has been cancelled. I am working on a project for Winterthur, Switzerland and Baden Baden, Germany, as well as a public art project for Museum COS Denmark.
Published February 2021