"Art plays a powerful and proactive role in affecting change."
COVER STORY: FINE ARTS ISSUE
Currently the director at Gaia Art Foundation in London, Burcu Yüksel previously had her own consultancy company in old masters and contemporary art.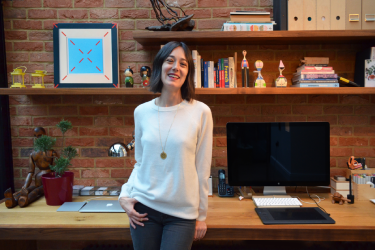 Burcu Yüksel RC 02
What is the Gaia Art Foundation's mission?
Gaia Art Foundation is a young, private initiative dedicated to supporting and to facilitating exchange across art, ecology, science and technology. We don't have an exhibition space or collection, so collaboration with artists, curators and organizations is key. Art plays a powerful and proactive role in affecting change, and we believe it is our responsibility to work together across different disciplines on projects that have the potential to inspire and engage with audiences in a positive way.
You are an expert in both old masters and contemporary art. How did that come about?
I ended up working in both thanks to my mentors. I was encouraged by them to not give up one or the other, but to keep on doing what I feel passionate about. While working with old masters, I kept active in contemporary art through my engagement with patron groups and committees and became a member of AICA Turkey, conducting interviews for Turkish media with artists and art professionals such as Marina Abramovic, Gilbert & George, and Anselm Kiefer.
How do you view the contemporary art scene in Turkey?
I love the energy and dedication. Support of artists, curators and writers are essential for any art scene to thrive, and most of that responsibility falls on private individuals and initiatives in Turkey.
How has RC influenced you?
It equipped me with the confidence and courage to stand on my own ground and find my path. The alumni network provides great support, which I particularly benefited from when I first moved to the US and later to the UK.
Published February 2021