"RC nature was my inspiration."
COVER STORY: ENVIRONMENTAL SUSTAINABILITY
Prof. Dr. Çağan H. Şekercioğlu is a biology professor at the University of Utah, a visiting professor at Koç University, the founder of KuzeyDoğa Society, and a conservationist, focusing on the preservation and appreciation of the unique plants and animals of Anatolia.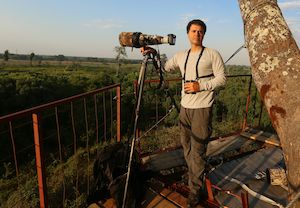 Prof. Dr. Çağan H. Şekercioğlu RC 93
What does being a conservationist mean?
Biodiversity and ecosystems are threatened by climate change, habitat loss, degradation and fragmentation, invasive species like feral cats, exploitation of wildlife, pollution and emerging diseases.
Being a conservationist means becoming aware of these issues, understanding how ecology works, realizing the complexity of the problems threatening biodiversity, studying and publishing about those problems, educating the public through interviews, articles and documentaries and taking action to actively protect biodiversity and habitats, including lobbying the government and working with all stakeholders to get new areas effectively protected.
How did RC support your interest in the environment?
Studying in the most beautiful high school campus in Turkey was crucial for me. RC nature was my inspiration. Our amazing library where I checked out and read 54 books in Lise 3 alone was instrumental in my becoming a scientist. I had amazing, passionate, fun teachers. I am especially grateful to Mr. Altuğ and other biology teachers, our ECIS math team teachers, my photography teacher Aydın Ungan, Mrs.Watrous who helped me write my college essays, and Mrs. Göksel who told me that I should apply to US colleges. I was lucky to get into Harvard.
What do you recommend to those who want to go into environmental studies?
In college, studying biology, environmental sciences or related fields are probably the best, followed by a graduate degree in ecology, environmental sciences or conservation biology. You also need a good education in social sciences and preferably volunteering experience in working with local communities. If you are passionate and good at what you do, you can also find a job with an environmental organization without any scientific training.
Can you tell us about your non-profit organization KuzeyDoğa?
I first came to Kars in 2001 while leading a butterfly expedition from Trabzon to Hakkari. I fell in love with eastern Turkey and decided to establish eastern Turkey's first ornithological (bird) research station here. That expanded to mammals and other organisms and led me to found KuzeyDoğa, a research-based, non-profit, civil society organization. Its mission is the conservation and promotion of the rich biocultural diversity of northeastern Turkey where the Caucasus and Iran-Anatolian global biodiversity hotspots meet. We created a community-based research, education, and capacity building framework that emphasizes the creation of sustainable livelihoods, while focusing on preservation and appreciation of the unique plants and animals of Anatolia. Since its establishment in 2007, KuzeyDoğa became the only locally-based and research-based environmental NGO in northeastern Turkey, one of the best-known conservation NGOs in Turkey, and a member of various committees on sustainable development, nature and cultural conservation in the region. It was selected as an International Union for Conservation of Nature (IUCN) Member with the nomination of BirdLife International, National Geographic Society and Wildlife Conservation Society in 2016.
Published August 2021