"Contemporary artists feel a responsibility to raise awareness about issues of our time."
COVER STORY: FINE ARTS ISSUE
A renowned artist, who has created paintings, sculptures, and art objects, Can Göknil is also a prolific writer who has written and illustrated children's books and story collections.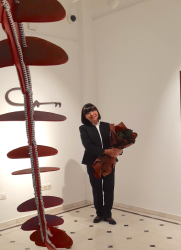 Can Göknil ACG 66 at her retrospective exhibition in 2018 with her sculpture Düşgücü / Imagination, 2010
How do you think the arts scene has evolved in Turkey over the years?
Fundamental values of the artistic expression changed rapidly, as every facet of life immersed into computer technology. Artists now use technology instead of conventional tools of photographic art or artist's materials such as paints, brushes or pencils. They choose to design using computerized images, utilizing cell phone photos or readily available imagery. Sometimes art is construction or installation using discarded materials.
Contemporary artists feel a responsibility to raise awareness about the social, political, psychological and ecological issues of our time. Speed has become their norm for expression because they are not interested in creating long-lasting art objects. The aim of the artist is to raise awareness related to contemporary problems one after another.
Today's art can be just a book displayed as an art object, or even a single word or a sentence spelled out in neon lighting. A piece of sewing referring to an idea or a short amateurish video can be art or a live body/artist sitting silently in front of an audience for a length of time, a practice called "performance". In many cases the purposes of these shows are not clear, and this leads to confusion for art lovers, gallery goers, collectors, art historians, and even other artists. Exhibitions nowadays are often organized by curators who determine the theme for the exhibit and choose the best fitting art works. To summarize: Curator's aim, artwork, artist, media, public. I find this chain of priority faulty and uninspiringly dull.
How about children and art?
My experience in art education has been directed to children because I believe in an early start. For the last forty-seven years I have been writing and illustrating children's books. Picture books are an introduction to art and literature which is essential for healthy mental development. For me, it is a lot of fun to draw and paint children-friendly pictures for big themes like empathy, tolerance, loss, friendship, cultural differences, family and love.
Published February 2021