GRADS IN THE NEWS
Deniz Tortum's film Maddenin Halleri (States of Matter), which had its global preview at the Rotterdam Film Festival and Turkish premier at the 57th Antalya Altın Portakal Film Festival, has won three awards so far: Best Film and Best Director at the Accessible Film Festival, and Best Documentary at Altın Portakal.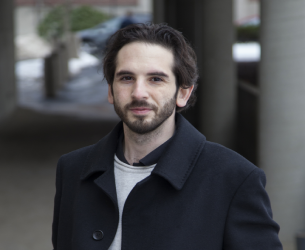 Deniz Tortum RC 08
When asked what inspired him to make this movie, Tortum states, "I grew up in a family of doctors. My father has worked at Cerrahpaşa for most of his career. In 2015, there were rumors that Cerrahpaşa was going to be demolished, so I started shooting this film as an impulse to archive. I wanted to make a film about life in the hospital, a film that attempts to understand the psyche of the healthcare workers and explores the hospital from multiple perspectives - doctors, nurses, patients, cats, buildings."
Tortum's previous film was Anatolian Trip (co-directed with Can Eskinazi). It follows an amateur psychedelic rock band embarking on a self-organized concert tour in Turkey. His next project is called ARK, and it explores the relationships between the history of computation and the climate crisis.
Tortum remembers fondly the freedom RC provides and its support of the arts: "In film-making no one tells you how to shape your career or what the next step is. You need to create your path constantly and that requires being comfortable with autonomy. I was able to delve deep into photography and filmmaking at RC; having access to a darkroom was really invaluable. I learned many fundamental skills there."
Published February 2021