"Genç Modern aims to bring together young professionals interested in the arts and involve them in Istanbul's dynamic art community."
COVER STORY: FINE ARTS ISSUE
Alongside their successful and busy careers, classmates Esra Eczacıbaşı and Cem Yılmaz founded Genç Modern to help cultivate love for art and art patronship.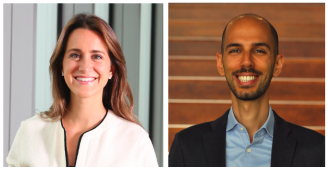 Esra Eczacıbaşı RC 07 and Cem Yılmaz RC 07
What inspired you to start Genç Modern?
In 2013, there were no arts membership programs for a young audience. Many of those around us were interested in learning more about modern art but had no means to meet fellow art enthusiasts and build meaningful relationships with artists, curators or collectors. Furthermore, young artists shared their disappointment about the lack of visibility and opportunities for them in Turkey's contemporary art world.
What's the aim of the group?
Genç Modern aims to bring together young professionals interested in the arts and involve them in Istanbul's dynamic art community. It provides a platform through which members meet with artists, curators, collectors and supporters of art to further their understanding of modern and contemporary art. It is the ignition point for members to enter the contemporary art sphere. As an affiliate of Istanbul Modern, Genç Modern's mission is also to increase the visibility of talented Turkish artists at the start of their careers and create opportunities for them in the contemporary art world.
How has Genç Modern evolved over the years?
Genç Modern has become a community throughout the years. Genç Modern is now a powerful network through which members support each other as they connect with the art community at large.
How has your education at RC influenced you?
Our education at RC taught us to welcome new experiences and embrace opportunities that push us out of our comfort zone. At RC, we cultivated a strong desire to explore, learn and grow. This is evident in conversations among ourselves, where we constantly discuss how we can further improve the program and foster new experiences. Ultimately it is this openness and curiosity that led us to start Genç Modern.
Published February 2021