Gülrü Necipoğlu, Aga Khan Professor of Islamic Art and Architecture and Director of the Aga Khan Program in the Department of History of Art and Architecture at Harvard University, has been appointed to the British Academy as a Corresponding Fellow in the discipline of History of Art and Music.
GRADS IN THE NEWS
Necipoğlu has received this lifetime accolade not only because of her internationally renowned and vast body of work in areas such as Ottoman and Mediterranean architectural history, pre-modern Islamic art and architecture, and visual culture of history and science, but also because of her previous awards and titles and the sheer number of brilliant students she has educated who have gone on to become academics around the world. She is the first Turkish fellow of the Academy in its 118 years. Corresponding Fellows are elected as a mark of the highest scholarly distinction.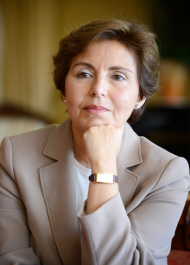 Gülrü Necipoğlu RC 75
Necipoğlu claims her experience at RC influenced her academic career greatly: "I was a successful science major, but being exposed to the humanities at RC changed my outlook and helped develop my intellectual curiosity for the arts and humanities in a deep way. My teachers provided superb advice about appropriate colleges in the US for pursuing my passion for the arts with a BA degree, which would combine studio arts and art history with philosophy and anthropology. The final choice was excellent: Wesleyan University in Connecticut. This broad combination of fields eventually evolved into my decision to focus on art history in graduate studies at Harvard. RC played a huge role in my intellectual development with its curriculum exposing us to a wide range of disciplines. I was awarded the RC Literature Prize, upon graduating, showing my interest in creative writing which proved so useful throughout my career.
Published February 2021