"As leaders, we need to use our intuition as well as our knowledge for a more conscious ecosystem approach."
COVER STORY: SOCIAL ENTREPRENEURSHIP AND INNOVATION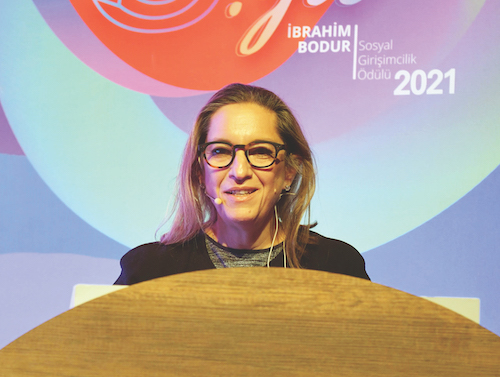 İbrahim Bodur was a pioneer of Turkish industrialization. He not only founded and propelled Kale Group to the powerhouse that it is, but he also personified many of the tenets and values associated with social entrepreneurship. The RCQ had the opportunity to discuss his legacy with his daughter Zeynep Bodur Okyay, who elevated this social entrepreneurship mindset to another level.
How was your father a role model for you in building a social aspect into your business?
İbrahim Bodur was an entrepreneur who was brave enough to set up a business at a young age and a local development model, prioritizing social good. I have inherited his values, and my motto is that we thrive not on problems but on responsibility.
The best showcase of our ecosystem approach is our annual İbrahim Bodur Social Entrepreneurship Awards. Social entrepreneurs are not only changemakers and architects of the future but also agents of hope. We have 13 fellows so far, and we have received over 1,300 applications from all around Turkey. Our award program has a specific collaboration category. This choice is so rare that we had to define what we mean by collaboration. This award, in its fifth year now, commemorates my father's spirit.
How are you using the change management method Theory U and the ecosystem approach?
The ecosystem approach is a viable toolset to help us find our way forward. It overrides ego-systems and prioritizes collaboration, requiring co-creating, co-designing and co-implementing. Listening is crucial. We need to lend our ears to communities' genuine needs, changing direction or adjusting pace according to feedback. The ecosystem approach calls for regenerative leadership and balance. As leaders we need to use our intuition as well as our knowledge for a more conscious ecosystem approach.
What activities is Kale Group doing in terms of social impact?
We recently brought to life Kale Design and Art Center in Karaköy (KTSM). It is a hub for artists, designers, and lifelong learning enthusiasts facilitating interdisciplinary exchanges and collaborations. KTSM believes that art and design can make the world a better place. As a pioneer of the "Care for Your World" movement, KTSM aims to inspire and trigger action on this awareness. We also envision it to be a hub for social entrepreneurs for them to scale their work. We want them to create with people from creative industries. If we can make solidarity the new normal, we can solve most of our problems.
How do you see Kale Group being a role model for other companies?
One company alone is neither competent nor sufficient to create impact. An ecosystem approach is the way to go. We call upon the business community to take responsibility, each within their sphere of influence, and to join forces for a resilient ecosystem and for a brighter future.
Published February 2022