Students learn about the business world through various activities.
RC NEWS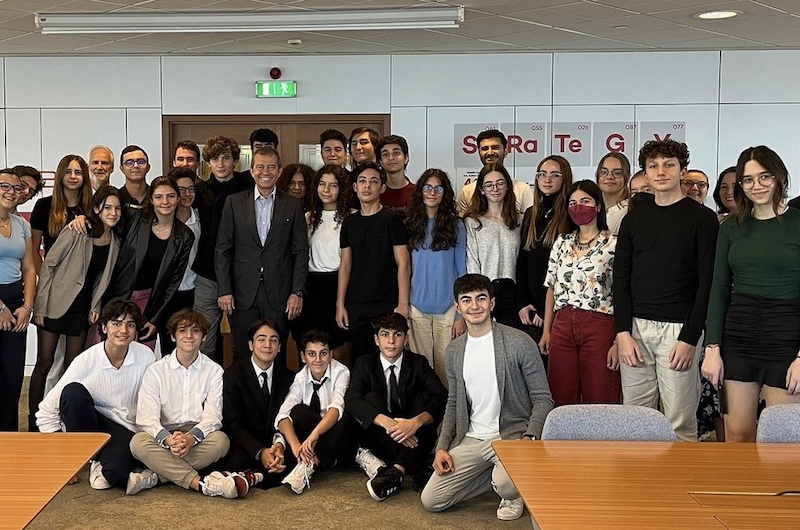 The Robert College Business Society was founded in 2014 by RC 15 students Törehan Çağrı Kara, Canberk Koparal and Fırat Geyik. The plan was to link to the old Robert College Business Society that had existed in the 1950s and 1960s and which had continued at Boğaziçi University. While the club initially connected to Boğaziçi, over time the Business Society has morphed into what it has become today: a venue for discussions and presentations, visits to companies, and the famous "Heritage Room Talks'' in which speakers engage in a conversation with members of the club and other interested students. The club also has an intermittent publication, The Boss.
Over the years, the venues visited have ranged from Merril Lynch - Bank of America to Eczacıbaşı Holding to the most recent visits, Akbank's Headquarters and Tekfen Holding. During each visit, students have been able to interact directly with members of the company's leadership, often including RC graduates such as the CEO of Akbank, Hakan Binbaşgil RC 79. Visits have been complemented by Heritage Room Talks, the most recent with Ozan Korman Tarman RC 90 from Deutsche Bank.
The students get a great deal out of the club with one saying, "What we do in the Robert College Business Society is not only about finance. We also aim to gain familiarity with professional life and working environments. With our frequent trips, we get to see what being part of a management team might look like. Also, during our club sessions we do presentations in English, which helps members get familiar with formal language and economics terms."
Overall, RCBS acts as a venue for its 35 members to explore a future that likely awaits them.
Published January 2023