"This is no time to be timid."
COVER STORY: FINE ARTS ISSUE
Having studied painting with ACG teacher Seniye Fenmen, and at Necdet Kalay's atelier and the Geneva Fine Arts Academy, Semra Özümerzifon has been working on sculptures in Istanbul.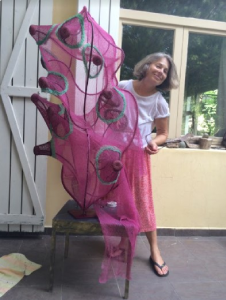 Semra Özümerzifon ACG 70 creating her net sculpture, Bereket
Art as a life path - what are your views?
Art is fulfilling and challenging. It enables artists to discover their true selves. It also demands a lot of perseverance, reflection and determination to cultivate talent, to develop a distinctive language of one's own to express one's feelings, thoughts, wishes, critical views, resistance or revolt.
The current art scene encompasses so many approaches and concepts. Boundaries of different disciplines are blurred, and traditions looked down upon, but intellectualism and innovation are always welcomed, in fact, demanded. This situation can seem to be too demanding and daring for prospective artists, but it also offers them a liberty of expression, an opportunity to be more flexible and bolder. This is no time to be timid. They have to defend their art, insist and assert themselves
What is the appeal of olive trees and fishing nets to you?
I depicted dervishes for a long period. With my exhibition of dervishes at the State Fine Art Gallery right across from the Mevlana Mausoleum in Konya, I felt the theme of dervishes had reached its term. About the same time, I moved from Geneva to Istanbul. Walking one day, I came across fishing nets on the shores of the Bosphorus. They had such a strong impact on me with their lush colors and rich textures. I started experimenting with the nets. I worked them in layers of different colors forming heavily textured soft compositions and incorporated iron construction to form soft sculptures. This recycled material also conveyed its own message: the story of the fishermen, their toil, the deep seas, problems of sustainable fishing, encapsulating so many existential aspects of our times.
My engagement with olive trees started with the urge of expressing my sadness when an olive grove was tragically uprooted in Soma. My first olive tree sculpture was a lamentation commemorating this event. Many drawings of obliterated olive trees followed. Sixty of these drawings were collected in a book- Mühür Gözlüm (see RCQ 49, p. 50) which included a short novel by İzzeddin Çalışlar written especially for this event.
Published February 2021