RC NEWS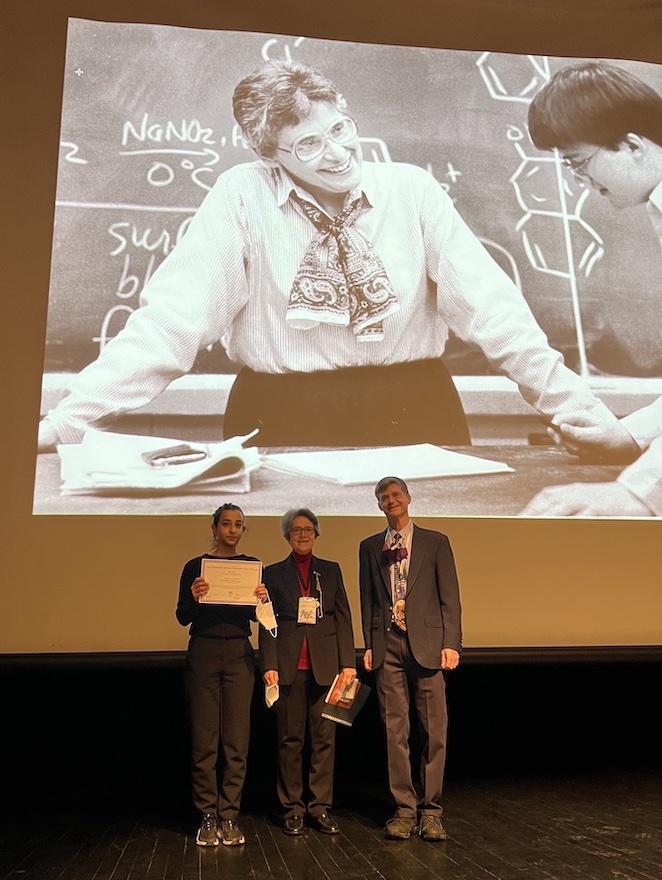 The annual Prof. Seyhan Nurettin Eğe ACG 49 Excellence in Science Award for Girls was presented at the Lise 11 assembly on March 28, 2022. Established by Prof. Seyhan Eğe's sister Güneş Eğe Akter ACG 52 in 2009, the award is given each year to a female Lise 11 student who shows outstanding dedication to the sciences.
This year's award was presented by Hümeyra Gücük, a relative of the Eğe sisters, to this year's recipient Elif İpek Eryılmaz L11. Addressing the assembly, Hümeyra Gücük said how influential the Eğe family was on the education of her grandmother as well as many young people. "What people learn throughout the years is the importance of the many ties established on the path of life beyond those blood-ties; mentoring is as nurturing as mothering."
Following the award presentation, Elif İpek Eryılmaz and her parents, members of the Science Department, guests Hümeyra Gücük and Emine Yeğen ACG 70, and last year's recipient Doğa Ece Tanaydın gathered in the foyer of Feyyaz Berker Hall where Elif İpek's name plaque was added to the growing group of outstanding science students' names.
Published July 2022