"We need a design process to quickly regenerate nature that we have polluted and destroyed."
COVER STORY: ENVIRONMENTAL SUSTAINABILITY
Taner Aksel is the founder of Belentepe Permaculture Farm. He has also founded the Permatürk Foundation, along with some of his classmates.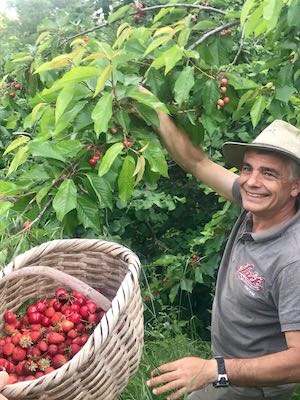 Taner Aksel RC 87
What is permaculture?
Permaculture is the conscious design and maintenance of agriculturally productive ecosystems which have the diversity, stability, and resilience of natural ecosystems. We need a design process to quickly regenerate nature that we have polluted and destroyed.
In permaculture design we initially observe natural patterns and processes and collect local information. These become our guides. We define all components of our design, and then we try to establish multi-benefit relationships among these components – which eventually would increase the resilience of the whole system.
How did you get involved in permaculture? How did you found Belentepe, and what are your activities there?
In 1998 my wife Ece Tümer Aksel RC 86 and I bought a 1.5-hectare piece of land on the outskirts of Uludağ. It was a fallow wheat field. We planted 700 grape vines and about 80 fruit tree saplings. It took years for the grapes and fruit trees to establish. Yet once they started fruiting, we could not obtain much produce. We lost much of the harvest to disease or drought most years. By 2010 I had come to a crossroads, either I would quit this dream or I would learn natural farming and then practice it on my land.
I started looking for courses on natural farming and living. Fortunately a permaculture design certificate course was being given in Istanbul in November 2010. The teachers of this course were two Australians: Bill Mollison, the founder of permaculture, and Geoff Lawton, a world-renowned permaculture consultant and designer. The first day they showed that I was totally illiterate on how life and nature works. I started with composting, mulching, natural gardening, and I did the permaculture design of my land. Then I started living on the land and implementing the design. In 2013 Belentepe Permaculture Farm was established.
From 2013 onwards, we started accepting volunteers. Word got around and more people wanted to visit and learn what we were doing there. I started giving permaculture courses. Until Covid, we organized many such courses and sustainability workshops at the farm.
What is the RC connection in all of these activities?
In spring of 2014, two RC geography teachers, Necla Sönmezay and Ferdağ Sezer, visited Belentepe. When they got back to RC, they started small gardening projects and asked me to speak at a seminar. We held an introduction to permaculture course at RC and about 120 students and teachers from various schools attended it (see RCQ 47, p. 15). Following the course, sustainability and permaculture clubs were founded at the attending schools, and many gardening projects sprouted. We started working with and hosting schools at Belentepe, including RC.
Word got around and a group of my friends from RC 87 spent a weekend at Belentepe. Some of my friends from this group asked me how they could be involved. I told them that the only way we can make a bigger impact is if we worked together and helped each other. We started meeting, discussing numerous issues and finally founded Permatürk Foundation. Among the 29 founders are some of the teachers we worked together over the years, my wife and I, and five of my RC friends.
We would love to host our RC family at our foundation and discuss how we can support each other and grow this movement further, together.
For more details visit permaturk.org
Published August 2021