Melih Fereli RC ENG 70 talks about all things art and Arter
ESSAY
Melih Fereli RC ENG 70 is a pivotal figure in the Turkish art scene and is Arter's Founding Director. RCQ had the opportunity to ask him about all things art and Arter.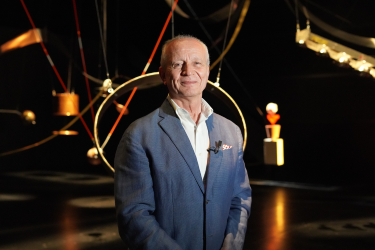 Melih Fereli RC ENG 70
How was Arter created and what is its mission?
Arter was opened in 2010, as a subsidiary of the Vehbi Koç Foundation (VKV), with the aim of providing a sustainable infrastructure for producing and exhibiting contemporary art. VKV is Turkey's first private foundation, with operations in education, healthcare, art and culture. VKV's involvement in contemporary art goes back to 2005, when I was invited to write a critical report on the Foundation's cultural activities in general, revising priorities and flagging new opportunities, which culminated in a new strategic plan with a strong focus on contemporary art. Since then, many key steps were taken in this respect, all of which were significant in rendering the Vehbi Koç Foundation a major actor in the world of contemporary art.
The opening of Arter at its venue on İstiklal Street in May 2010 indeed marked an important moment in this series of steps and was a clear sign that the Foundation's support for and efforts in the field of contemporary art were going to continue. Arter was announced as a preparatory testing ground, a platform for learning and exploration towards the actualization of the museum-scale building that would also accommodate the collection and entail a much broader and more comprehensive content that we would carry into the future. At its building on İstiklal Street, Arter presented 35 solo and group exhibitions between 2010 and 2018 with accompanying publications, talks, performances and workshops; and provided support for the production of 183 artworks in the framework of its program.
We are proud to have opened Arter's new home in Dolapdere in 2019, which also marked the 50th anniversary of the Vehbi Koç Foundation. Arter's new building, designed by Grimshaw Architects, London, is conceived as a versatile space that offers multi-layered possibilities to discover, enjoy and engage in a closer dialogue with art. The building consists of physically intersected spaces in a strong visual dialogue with the city. Spread on six floors, the galleries feature varying volumes, ceiling heights and a high degree of flexibility.
At its new home, Arter celebrated its 10th anniversary this year and continues to be a sustainable, vibrant cultural hub. It strives to make art accessible to larger audiences through exhibitions drawn from its own collection as well as curated exhibitions of non-collection works. One of Arter's missions is encouraging contemporary artistic production across all disciplines from music to dance, theatre to sonic arts, film to literature. Arter's Learning Program presents processes and activities that aspire to interpret our times through art. Arter presents publications that aim to enhance and stimulate conversations around contemporary art. Through its bilingual (Turkish and English) publication policy, Arter aspires to contribute to the production of knowledge in the field and to the writing of art history by encouraging original research and commissioning new texts.
Are there other inspiring museums like Arter in the world? Which museums did you draw examples from when creating the original Arter on İstiklal and the new space?
There is a whole host of museums around the world offering exciting programs that draw large crowds. Arter has not really been modelled on any particular contemporary art museum; during the process of writing its mission and preparing the architectural brief, we conducted a lot of research and found that institutions with a long history were facing infrastructural difficulties in addressing the changing demands of audiences.
Events designed around exhibitions appeared to be the formula for increasing visitor frequency, but sizeable investments needed to be made in providing the necessary spaces with the appropriate technical infrastructure to meet the requirements of such projects. As you know, I am not a museologist; my background in classical music and festival management has turned out to be an advantage in writing the architectural brief for Arter, which now operates more like a vibrant cultural center across many disciplines, while boasting a great collection conceived on an international basis, from which e curate exciting exhibitions.
What sort of activities is Arter hosting during the pandemic?
Arter organized many online events as part of its current exhibitions. Our new online gatherings "Show and Tell from Home" invited each participant to share a personal narrative around an object or work of art present in their home.
In addition to our Interpretation Events in Turkish, we've hosted some crucial international online events as well. Organized on the occasion of two of our current exhibitions, Rainforest V (variation 3) and KP Brehmer: The Big Picture, three online panel discussions in the last months brought together associates and collaborators throughout the world. It was a great pleasure to have a vibrant dialogue around contemporary art together with nearly 200 people in each of these events.
Arter's Workshops for children and adults, Contemporary Art Seminars, Movement Workshops, and Online Guided Tours also continue online. During the pandemic Arter presented an online exhibition titled Altan Gürman: A Pioneer of Contemporary Art in Turkey and more than 160 works from its collection via Google Arts & Culture. Between April and July Arter's curatorial team also presented two online selections of video works from the Arter Collection titled #playathome on arter.org.tr
Our monthly Lunch Time gatherings with our neighbors and visitors had to be suspended due to safety concerns during this period; however, we are always delighted to see some familiar faces participating in our online events, broadening the meaning of being a neighbor.
Is there anything new that you're doing that you plan to continue after the pandemic?
We'll probably continue designing special online events with international participants after the pandemic is over, as technology has enabled us to reach wider audiences. Otherwise, we hope to return to a degree of normalcy in physical space and resume concerts and performances.
How do you think the art scene in Istanbul has changed over the past 25 years?
Istanbul's contemporary art scene achieved a major leap forward with the fourth edition of the Istanbul Biennial in 1995, curated by René Block, when I was director general of IKSV. Further noteworthy developments were the founding of Istanbul Modern (2004), and the impressive transformation of the Sabancı Museum following the appointment of the "great dame of museology" Dr. Nazan Ölçer as its director. Galleries flourished and Contemporary Istanbul came on the scene as Istanbul's first art fair.
Economic downturn and political upheavals halted Istanbul's rise to stardom; despite the lull that we've experienced, a fairly steady pace of growth was resumed since 2010 after Arter entered the scene with reenergizing determination to make a difference. Our new building and visionary program across disciplines put Arter into international limelight, only to be curtailed by the adverse effects of the pandemic. More and more artists from Turkey gained international recognition in the limelight of their shows at major institutions.
I believe, during the next decade the Istanbul art scene will witness the rise of new museums and the differing institutional discourses on museum programming.
What is your advice to RC students who want to study art and build careers as artists or in art management?
The path to success and happiness is quite arduous; passion, perseverance and patience are needed beyond a good education, ideally followed by a "master-student" relationship. Thinking out of the box, making an effort to discover what your heart's real desire is, and what will make you happy; at the end of the day, "achieving happiness" is our ultimate goal in life!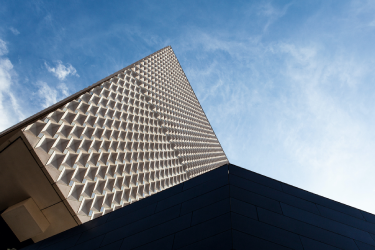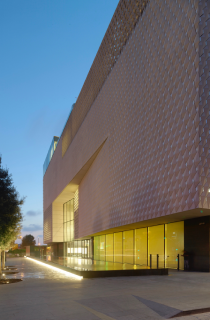 Arter moved to its new home in Dolapdere in 2019
Published February 2021