A Look at How RC is Navigating Web3
COVER STORY
The metaverse and Web3: It looks like both these concepts will be around for a long time, and RC is well-prepared for all the practical and educational implications. With a great technology team, interested and engaged teachers, and curious and ambitious students, RC has embraced these concepts through its labs and clubs and has even integrated the technology to some classes. Here is how: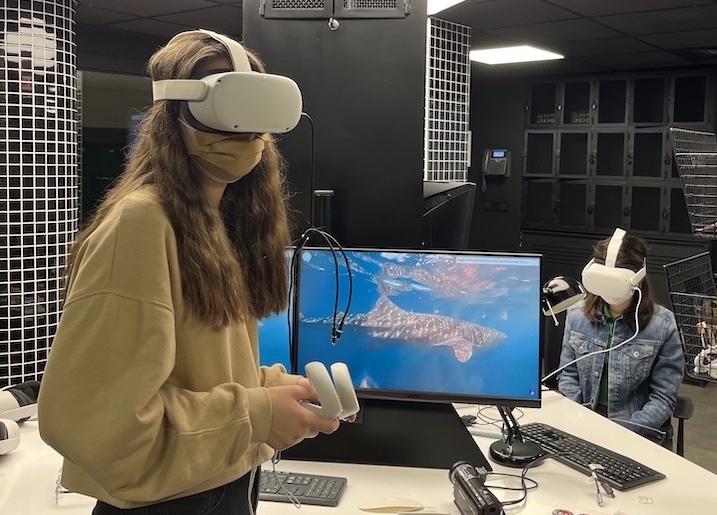 Marine Biology Club members take a virtual dive to learn about the underwater world
The metaverse is a virtual-reality space in which users can interact with a computer-generated environment and other users. The new virtual reality (VR) headsets promise to create a metaverse experience that will be almost indistinguishable from the physical world experience. RC CTO Tanol Türkoğlu explains: "Today, a person can shop online by examining photos or videos of goods, reading the previous customers' comments, and carrying out the purchase transaction by keying in credit card information, all using a keyboard, mouse and screen, in 2-D. Tomorrow, a person will wear a VR headset, enter into a metaverse and will virtually walk into a shop, virtually examine the goods and buy them using a digital payment model, all in 3-D."
RC is helping students navigate this new frontier by allowing them to not only try out the technologies in RC's own VR and AR labs, but also giving them the skills to design their own virtual experiences.
RC Augmented Reality Lab: Fast Forwarding to the Future
A prominent manifestation of metaverse technology at RC is the RC Augmented Reality Lab, established with the support of Akbank. Just as RC was one of the first schools in Turkey back in the 1980s with a computer lab, the RC Augmented Reality Lab constitutes the gateway to the metaverse for RC students. Pınar Kadıoğlu, Educational Technology Coordinator, gives the lowdown on the AR Lab, and its precursor VR Science Lab.
"A mini-VR Science Lab was established in Feyyaz Berker Hall right before the pandemic. We wanted to perform science experiments that could not otherwise be done because of safety reasons or because they were practically impossible to do. We've been collaborating with a science-tech company (VRLab Academy) which provides virtual laboratories for physics, chemistry and biology experiments."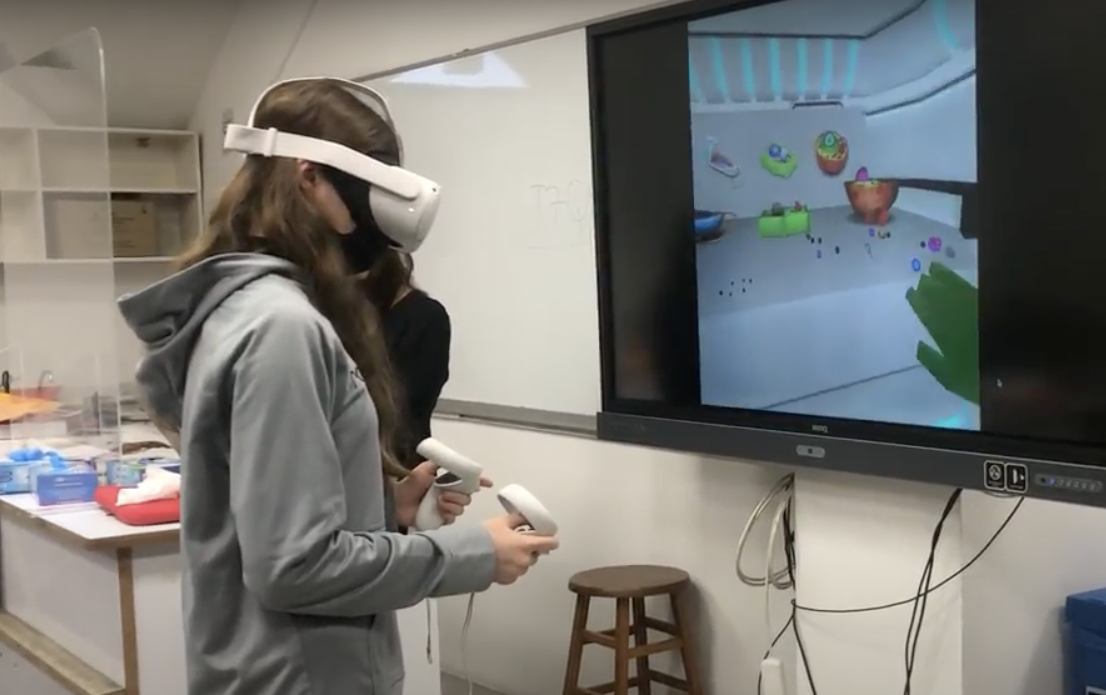 A student uses a virtual reality app for a cell structure experiment in biology class
The AR Lab was established during the 2020-21 academic year and is finally being used in all its capacity this year, with students back on campus. The purpose of this lab is to introduce students, teachers and other members of the RC community to the concepts of augmented and virtual reality and adapt them to the extended reality environment.
A typical VR experience enables a student to carry out a physics experiment, which would be impossible because of possible harmful results in the physical world, whereas its metaverse equivalent would enable students to interact with each other while carrying out the experiment virtually.
Experiments are not the only method of experiential learning. This year students also experienced climbing a mountain in a VR environment, after watching the "Free Solo" movie about the life of a climber. Students learned climbing tricks in different areas by feeling the changes in their heartbeat and breathing.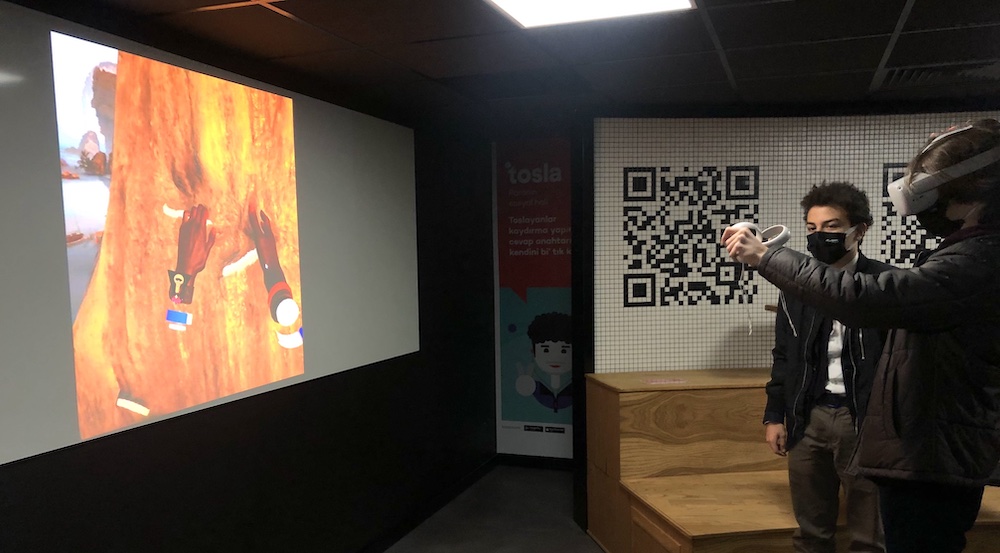 After watching the documentary Free Solo, students were able to experience climbing a mountain in a VR environment
Every year at RC, more teachers and students are submitting new project ideas that integrate VR technologies. In this new world, learning will be completely experience-oriented."
RC Students Are Also Developers
RC students progressively increase their technology skills to be able to make maximum use of these facilities. More and more students will likely not only be the users of these technologies but also the designers or creators of them. An example of technological creation by RC students is the RC 360 app, a virtual school tour for prospective students, their parents, alumni, students, faculty and staff members.
RC-Born Museum Apps
Encouraged by Turkish Language and Literature Department Head Mehmet Uysal to actively use AR/VR technologies in their classes, RC Turkish teachers Aysun Barut Bilgili and Sinan Tümtürk worked with students from RC's Dreamworld AR/ VR Club, IT team members, and technology company Manogames to design two virtual museum tour apps with huge educational benefits. During the creation of these museum projects, students took an active role from writing scenarios to coding VR environments in Unity programming language.
Aşiyan Museum, the beautiful house of Tevfik Fikret, widely considered to be the founder of the modern school of Turkish poetry, and once a teacher at RC, was chosen for one of the apps. Together with their teachers, the students first decided which parts of the museum to focus on. They photographed these sections, researched their history and significance, and then wrote and voiced texts in English and Turkish about them. Through this project, future 11th grade Turkish Language and Literature students will be able to virtually visit this museum, when they cover Tevfik Fikret and the Servet-i Fünun era in the curriculum.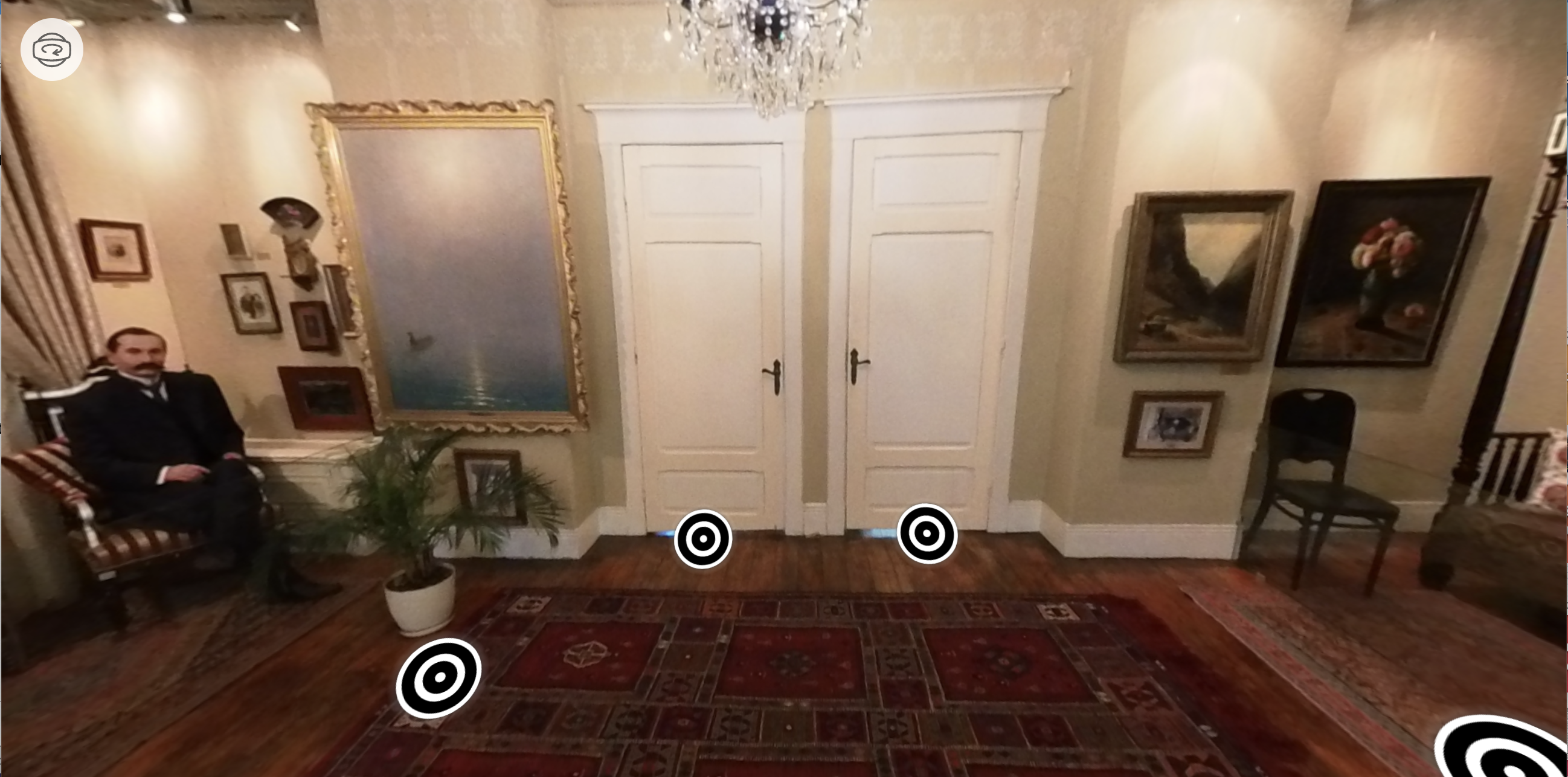 The Aşiyan Museum tour, also created by RC students, will be used to learn about the Servet-i Fünun era
The second chosen museum was the Museum of Innocence, taking its name from the book of the same name by the Nobel Laureate Orhan Pamuk RA 70. RC Turkish teacher Aysun Barut Bilgili says the app is designed to improve the learning experience: "We use the virtual tour in the concept of postmodernism with 9th graders. Museum of Innocence is a romance novel; what makes it different and postmodernist is the fact that there is a museum in Beyoğlu that contains a collection of items referred to or depicted in the book. With the virtual tour, the students had the chance to see which objects Kemal, the protagonist, had collected related to Füsun, his love. Kemal opens a museum at the end of the book. The novel constitutes a great example for metafiction in the context of postmodernism. Through the virtual tour, students understand metafiction, a concept which is a departure from standard narrative conventions."
The project will also be shared with the museum directorship, as a way of giving back to the community.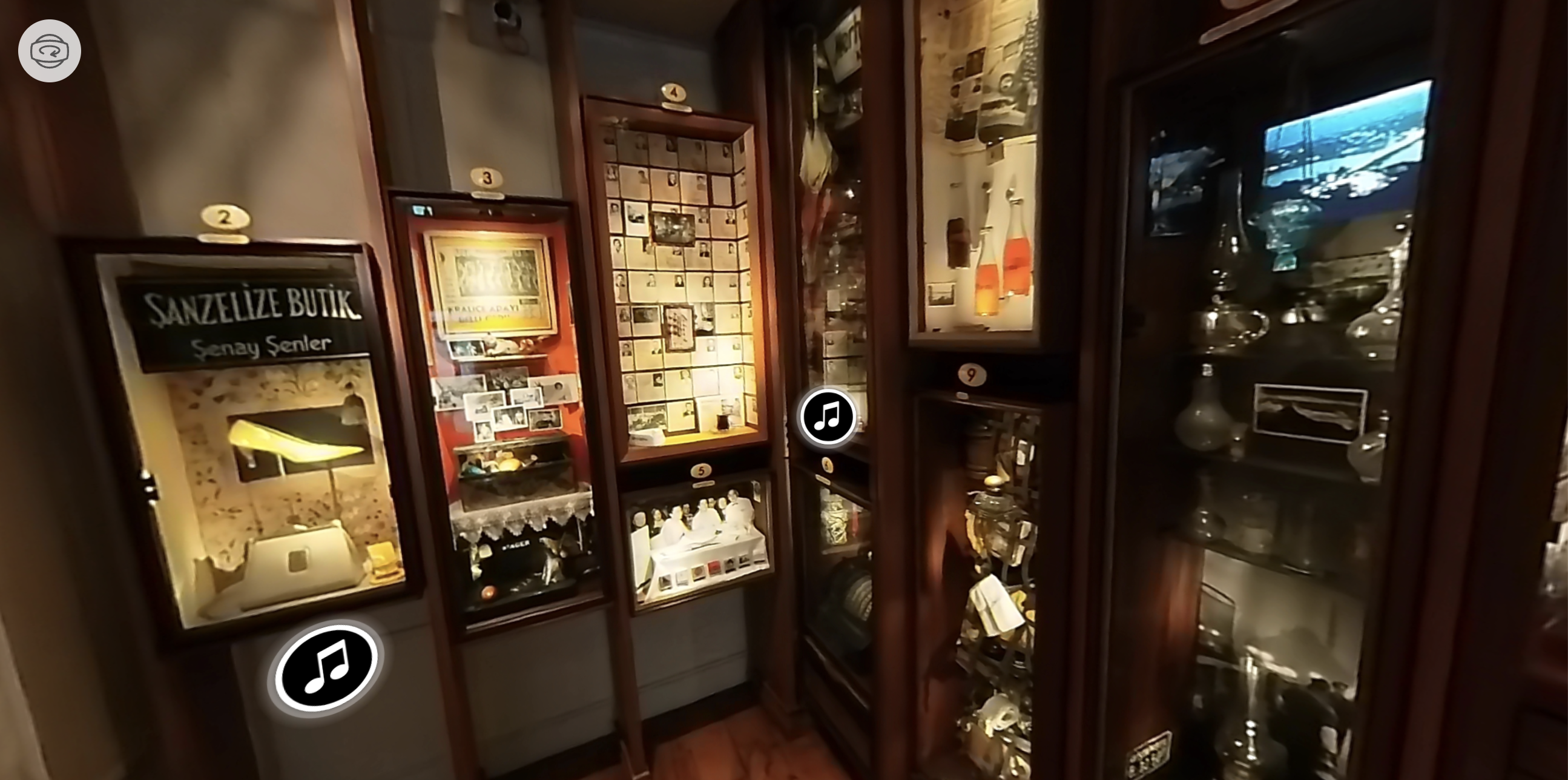 Students also created a virtual tour for the Museum of Innocence and use it to learn about postmodernism
Literature and Technology Elective Also Employs VR
English teacher Allison Finn explains how the Literature and Technology class evolved thanks to new technology:
"The Literature and Technology class is an English literature class focused on humans' relationship with technology. We started with robots specifically when we studied I, Robot by Isaac Asimov and examined the film 2001: A Space Odyssey. We studied Nicholas Carr's The Shallows, William Gibson's Neuromancer, and various short stories, essays and poetry including Alan Turing's pivotal paper 'Computing and Machine Intelligence.'
"Since we studied the literature that originally imagined the matrix and we have delved deeply into the surrounding landscape, it seemed like it was time to experience it for ourselves. This moment happened to coincide with the availability of the technology as our IT specialists created the opportunity. The students entered a private space in the metaverse and spent time experimenting, playing with the options on the control board, and imagining what this space could mean for the future.
"Toward the end of the semester, the class began creating a VR experience based on an original robot vs. human story they wrote themselves. The thematic threads that run through the story are ones we studied this year, and there is footage from Sultanahmet Square and from the campus."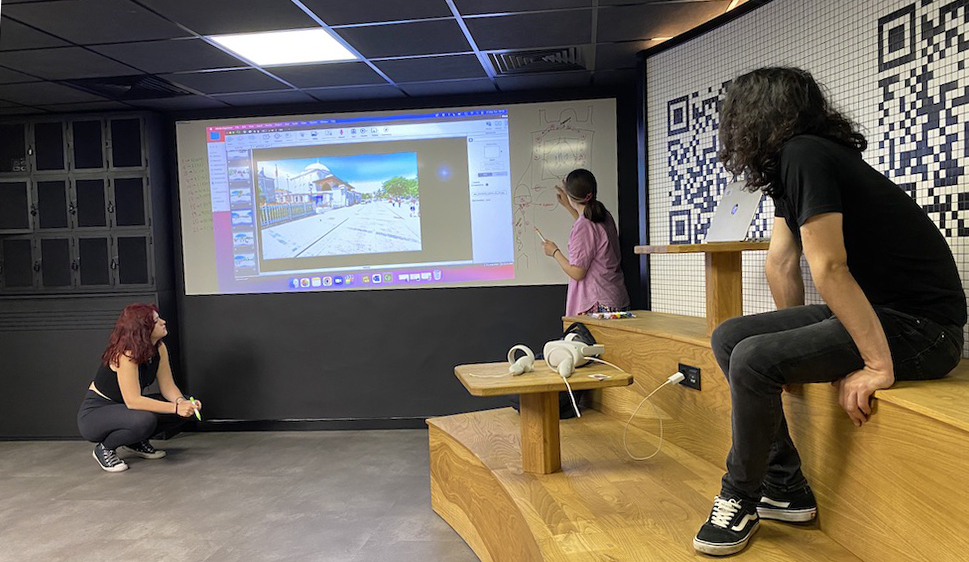 Literature and Technology students prepare a storyboard that will be used to create an original VR experience
RC Clubs Embrace New Technologies
Being surrounded by all these technological developments, students and advisors developed interesting responses in the extracurricular arena.
RC Blockchain Club
RC Blockchain Club was launched in 2021 by Lise 11 students Eren Önder and Soykan Çağan Baş. Soykan expresses the club's ambitions: "As an institution that has graduated many innovators in different sectors, we wanted to keep this RC tradition. Thus, we launched the first high-school level blockchain club in Turkey. In the first half of the year, we taught Blockchain 101 content, and in the second half we divided members into groups based on their interests. Our goal for next year is to have a more rigid structure that will allow people to specialize. This way we will be fully equipped to build blockchain projects like creating an NFT collection."
RC Marine Biology Club and the 360 Aquatic Tour
Sibel Almas, biology teacher and Marine Biology Club advisor, tells the story the 360 aquatic virtual tour at RC:
"As a certified SCUBA diver and a lifelong snorkeler, the underwater world always fascinates me. Therefore, I had the idea in our Marine Biology Club to have a 360 virtual tour of an aquarium to those who cannot dive or visit an aquarium."
Defne Kaşif L11 says, "Throughout my life, I haven't had an adventure with marine life. Because of my fear of the sea and its vastness, I held myself back from interacting with it. With AR, the moment I saw how the fish swam across me, the instinct of reaching out to them was immediate. It was a moment of oneness where I felt like a part of the water itself. AR was indeed an extraordinary experience."
e-Sports Club – A New Way to Compete
RC e-Sports advisors General Manager Doğan Aydenk (RC Network Coordinator) and Vice President Kenan Muştu (RC MMC Coordinator) explain how RC is tackling this new competitive activity, that has just been introduced to the Olympics:
"E-Sports are game tournaments where licensed players compete in eGames such as strategy or sports, in a virtual reality-like environment, using the same equipment for fairness. The tournaments are live online and may have jurors and referees.
"The goal of the club is to use e-Sports as a platform for expanding the communication, cooperation and problem-solving skills of RC students. Another aim is to teach students how to run e-Sports like a business and show them that this is a career option."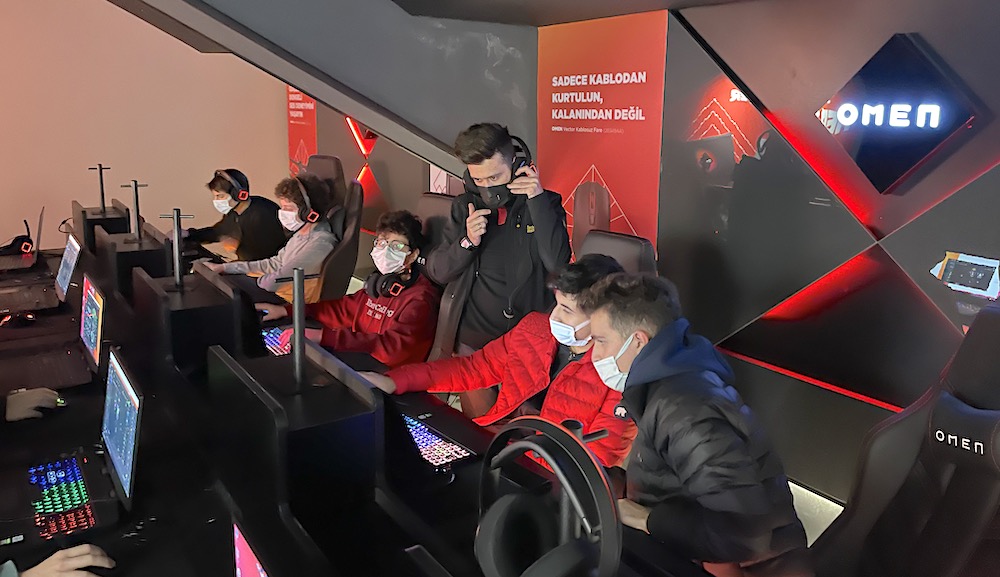 The RC e-Sports Club gives students the opportunity to participate in this new competitive field
RC players are currently competing in League of Legends and Valorant, which are also allowed by e-Sports federations around the world, and 22 members have already received a professional e-Sports license from the Ministry of Youth and Sports. RC's own e-Gym will be created shortly. Robert College's e-Sports program is supported by a grant from the US State Department's Bureau of Educational and Cultural Affairs.
Through its labs, its clubs, and its apps, but most importantly, through the curiosity and drive of the teachers, students, and staff, RC has ventured into the new technological world with confidence and ambition. Exciting years await the whole RC community!
Published July 2022