"The Kale Design and Art Center will be an interdisciplinary production and meeting point."
COVER STORY: FINE ARTS ISSUE
Passionate about design and art owing to her years at RC and excited about enabling people to connect through design and art, Zeynep Özler is the Corporate Communications Manager at Kale Group and Program Director of Kale Design and Art Center (KTSM).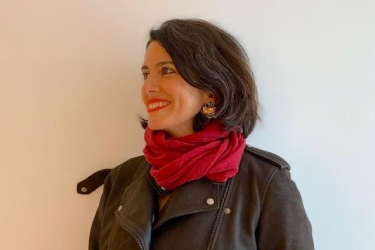 Zeynep Özler RC 98
What and where is KTSM?
KTSM is situated at Karakoy. Once Kale Group's first headquarters, it is the new space in the arts scene, and it has made significant progress in its first year as an interdisciplinary production and meeting point. The Center so far has hosted fourteen design and art workshops and four interdisciplinary meetings along with design competitions. It aims to provide a hub for those who believe the world will be a better place through art and design, as well as for students and new graduates. Also, through physical and online exhibitions, KTSM aims to acknowledge both established and new generation ceramic artists as well as showcase examples of co-creation between local makers, artisans and artists, highlighting sustainability. The upcycling project attracted attention, and there is more to come. There will also be digital talks on design, architecture and art with inspiring speakers
Why did Kale Group create KTSM?
Kale Group stands out not only with its pioneering activities in its main areas of operation, namely ceramics and building materials but also with its innovative and circular social impact projects and continuous support of art and culture. I am proud to work for a purpose-driven company that is people-centric, and for a leader, Kale Group President and CEO Zeynep Bodur Okyay, who is committed to creating sustainable value in all areas of life.
We dream of KTSM as a hub, where people from different walks of life or disciplines come together to co-create. We also envision it to be a meeting point for social entrepreneurs, who are impactful actors in shaping the future. We want them to exchange ideas as well as dreams. At this center we mirror our roots, the values that make us who we are. As one of the first Kale offices, we have preserved İbrahim Bodur's office as a museum hosting memories. For KTSM to be a living space, we need your engagement and energy. Please walk with us.
Published February 2021