Margaret Halıcıoğlu joined RC in 1991 as the director of music. Who better than her to recall the legacy of musicals at RC and productions past?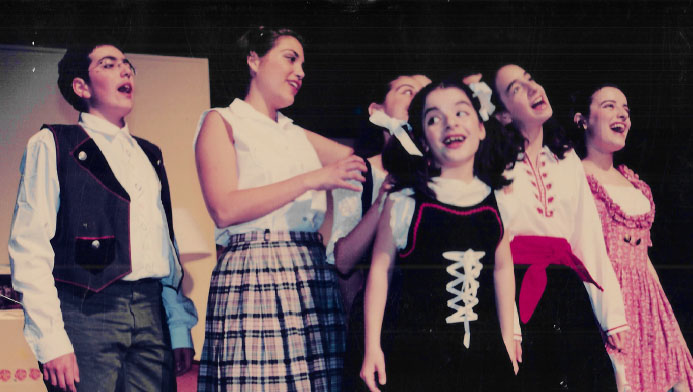 What were your observations about musicals when you joined RC?
When I came to RC, students had to pick a club for the year. There was a Musical Activities club, and it always filled up fast. Students had to try out for parts. Lead characters would be chosen from Lise 3s (today's Lise 12s) - something students are unable to do now because they are usually busy preparing for university examinations. Rehearsals were held after school and at lunch, for a period of eight weeks. There already was a strong tradition and system in place, so I simply built on it.
How would you summarize your experience with musicals?
Producing musicals is emotional. It is a long journey. We had fun, but there was also an element of fear. There is a lot going on: singing, choreography, acting, and also the technical aspects like microphones. It is about taking risks, but also about supporting everyone well, being well-prepared. The musicals I have worked on were a huge investment for everyone involved, and they were one of the highlights of the school year, with at least three to four performances to a full house.
What is the draw of musicals? Why are alumni who worked on a musical unable to forget that experience?
Musicals are all about a team effort. There might be a lead role or two, but the chorus is also really important. If one person is off, it messes up everything. Everyone feels important.
Many of our students did things they never thought they would be able to do. Musicals built really strong memories and friendships. The preparation and performances developed the students' self-confidence and enabled them to feel pride in what they did. I am really proud of what the students achieved.
Through all these years, can you recall some people or events that stand out?
The first musicals I helped stage were Joseph and the Amazing Technicolor Dreamcoat and Grease. I have so many wonderful memories. I remember Sibel Kutman Oral RC 92 as Chacha in Grease. The next year was Fiddler on the Roof. The Sound of Music was staged the first year that we had the new Lise, with a mixture of new and old Lise students. Aylin Sezer RC L12 03 played Maria even though she was a Prep, and Betigül Onay Ozman RC 02 played Liesl. Who could forget Burak, entering from the roof of the theatre by rope for the beginning of Working?
When we put on South Pacific, right before the performances, the theater was struck by lightning, and the entire sound and light system was gone. Pelin Seyhan RC L12 03 had to have blackened teeth for her role, and Arif Karaca RC L12 04 was dressed in a grass skirt and a coconut-shell bra. Also all the boys went down to the barber in Arnavutköy to get a #1 haircut to be like sailors.
Lale Erdem Atılgan RC 00 who was in Calamity Jane was remarkable. She recently told me that she can still remember all the words of the songs she sung.
The lyrics of the musical Harem were written entirely by Vehbi Değer Turan RC 12 - an amazing feat.
All the students who were in the musicals had something special about them. These are but a handful of memories that spring to mind.